.: Darwin - Riverland SA October 2012
This will updated most nights except if we don't have mobile reception and that happens a bit in the Outback also

if you have just joined us, please read from the bottom up.
Day 27: 27 October – Pine Creek to Darwin 256km Total: 8285kms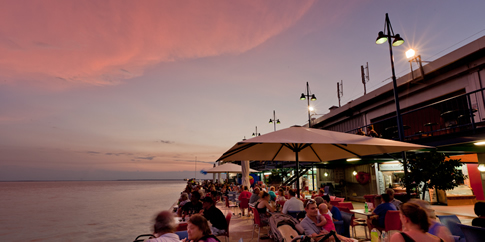 Well, our last day, a bit sad. I had another go at getting the tyre repaired but old mate was still closed so we pushed on hoping not to get another flat.
We were planning to stop at our favourite Adelaide River but still the road works made it difficult with the van so we gave it a miss and stopped at Coomalie Creek instead. Coomalie Creek was a WWII base for a squadron of Beaufighter Bombers. These days it is a roadside picnic area with a small stream and a bit of shade.
The last leg into Darwin, it was all coming to an end. We stopped off in Palmerston to wash the van down as it is a lot easier at this particular car wash as it caters for Boats and Caravans.
Just after 2 pm, we were home and it is bloooody hot, some storms hanging around so very humid and a pile of bills on the table. I said to Josie, "Let's get out of here and back on the road".
After settling down a bit, we decided to go down to the wharf for dinner and see what the sunset could do.
Day 26: 26 October – Mataranka to Pine Creek 247km Total: 8029kms
A small issue when we got up…ants. These were the tiny little Singapore Ants that are very destructive especially to electrical circuits and switches. We quickly fixed up the access points to try and stop any infestation.
A short run through to Pine Creek and the humidity was rising even though the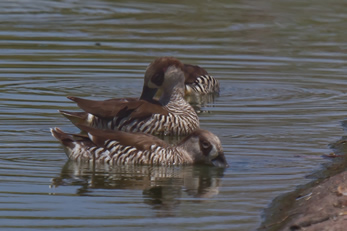 temp was slightly cooler. Once we got set up, we went for a drive. First stop the sewerage ponds and yes, I do visit sewerage ponds as they are great place to photograph birds. I was in luck, I spotted three Pink eared Ducks. I had never seen them before and got some shots albeit pretty ordinary as they were a fair distance and I was shooting through a chain mesh fence but, I got them.
We did a couple of the other sights of down town Pine Creek, Lookout, Pussy Cat Flats and the Copperfield Dam .On the way back from the dam, which was a pretty rough road, we got a flat tyre. Buggar! Changing a tyre in the dirt while it is 37 deg has its challenges. All done and after going through a breatho where the copper gave directions to the only bloke in town that does tyres. Well it is Friday afternoon and I guess he had gone to the pub. I get it sorted when get back to Darwin.
Our last night on the road, a bit sad. We had thought about turning right at Threeways or left at Katherine but I don't think Greg would be happy about that and we probably will need to get paid  before we continue too much further.
Day 25: 25 October – Renner Springs to Mataranka 416km Total: 7782kms
Renner Springs is one of a series of springs in the area that are fed by the Great Artesian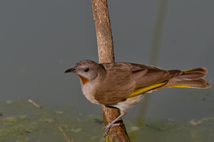 Basin. Being the only water around it attracts a lot of birds and there were a heap of Rufous Throated Honeyeaters first up for their morning drink.
An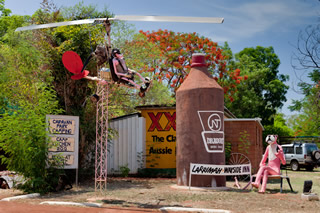 easy day today which was hopefully going to be a little cooler and it was, it only got up to 39 deg. We had a fairly straight run with stops at Elliot and Dunmurra before we got to Larrimah. Larrimah is a historic village that was that played a key role in the war, suppling Darwin and was the railhead for goods heading to Darwin that ceased operation in 1976.
A short drive to Mataranka where we are spending the night. This time we are staying a different Caravan Park, Bitter Springs. Mataranka's main claim to fame is, it is the setting for Jeannie Gunn's novel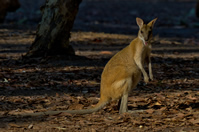 "We of the Never Never" written in the early 1900's about her time on Elsey Station and being the first "White woman" in the north. Now it is considered to be a book of significance in early Australian literature. In the 1980's there was a movie based on the novel shot on Elsey Station.
Bittwr Springs is quite close to nature being on the edge of Elsey National Park with the Little Roper River running along one boundary. It has heaps of birds and we have Wallabies coming near our caravan at dusk.
Day 24: 24 October – Ti Tree to Renner Springs 474km Total: 7366kms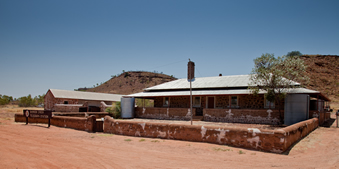 We awoke to the crowing of Peacocks and hundreds of screaming Galahs. Once underway, the temperature climbed quickly to 38 deg and hit 41 in the afternoon. With it being so hot we stopped every hour or so to allow the tires to cool down and prevent a blow out.
We stopped at Barrow Creek, a fairly desolate but historic place, it was an important point on the Overland Telegraph route, built in 1872. A few of the old buildings remain along with "Pilton's Hilton", the pub/roadhouse owned by Les Pilton.
An Outback yarn: Some years ago,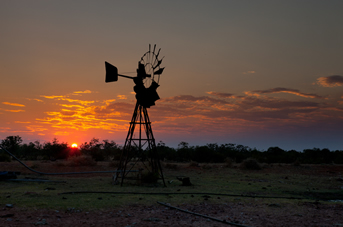 Barrow Creek had one of those plastic Golden Labradors that collect donations for the guide dogs. At Aileron, 200 km's south, they had one too but theirs was a Black Labrador.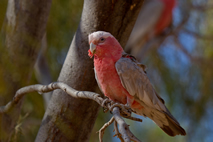 After too much heat and beers, it was decided that the two lab's should get married so, the black lab was put on the Greyhound bus and sent to Barrow Creek. The two were married by Les and the reception lasted two days. The pair was then put on another Greyhound bus to Wauchope, about 140 km's north for a "honeymoon", taking pride of place up the front of the bus and then returned on the southbound bus to their respective homes.
People in the Outback have too much time on their hands, but I believe the party was pretty good.
We stopped in Tennant Creek for beer, a carton of Blonde was $60, still a bit expensive but a lot better than $39 for a six pack.
Day 23: 23 October – Stuarts Well to Ti Tree 308km Total: 6892km
We first of all went for a walk to the next door Camel Farm.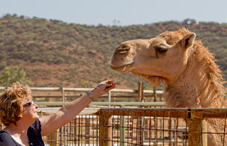 It was quite interesting with lots of info about Camels and the role they played in the settlement of outback deserts. There were a heap of trophies from various Camel race wins. Josie was considering going for a ride but when a couple busloads of tourists turn up, we decided to hoof it and pack up.
It was heating up fairly early. A short run into Alice for fuel and a few groceries and I had wanted to get some beer but bottle-o's don't open until 2pm there. We made our way to Ti Tree. Just up the road we pulled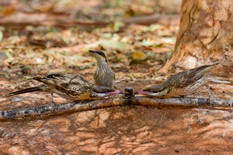 over for a bite of lunch where the temp hit 40 deg. What little breeze there was only blew hot air at you. It was good to get back into the car.
At Ti Tree, we were treated to luxury……grass! We hadn't had grass at a caravan park since Marla on the way down. This was quickly offset when Josie and I wandered up to the pub to get some beer, first bad sign was they didn't have Pure Blonde, I selected Tooheys Extra Dry and had to cough up $39.00 for a six pack OUCH! Oh well, we are in the middle of the desert and it is 40 deg outside….I'll put it down as First Aid.
Day 22: 22 October – Coober Pedy to Stuarts Well 610km Total: 6584km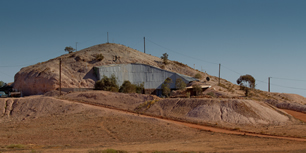 We had organised a late check out so we could have another look around this very unusual town. First stop was a hardware store to pick up a bit for the caravan. Now this hardware store has a dirt floor and some of their irrigation fittings were second hand but still in the same bin as the new ones. I had never seen either of these before.
Next stop  was an Opal mine and museum, it was done very well and underground. It was very informative and not only about
opals but the geology of the whole region.  They even had an opalised fossil of the contents of a swimming dinosaurs stomach, which happened to be squid.
We left Coober Pedy just before lunch and we had planned to stop at Marla some 230km's up the track, after getting and having lunch and a coffee, we decided to push on to Stuart Well a further 330km's. It was a fairly big ask considering our late getaway but we got there just after sunset. The last hour or so was a little hairy as that is the time that Skippy's decide to take a wander so, concentration levels were pretty high but all was good. Crossing the NT border, we waved goodbye to not only to South Australia but daylight saving as well.
On arrival at Stuart Well, we were invited to a concert by resident "Dinky" the singing Dingo but we didn't make it as we were still setting up the van, sounded interesting though.
Day 21: 21 October – Port Germain to Coober Pedy  608km Total: 5974kms
After a very windy night, we got away reasonably early and first stop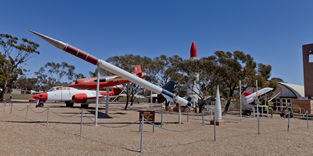 was Port Augusta for a fuel top up, then we had the first real indication that our journey was coming to an end, we took the sign that read Darwin. We are now heading home albeit still nearly 3000km away.
We decided on a small detour to the famous town of Woomera. It is a town renowned for rockets and their research. We weren't sure of what to expect but as we approached, we saw quite a sizable town but as we got closer we noted that a lot of the buildings had been boarded up and most of the houses were uninhabited. It was quite eerie although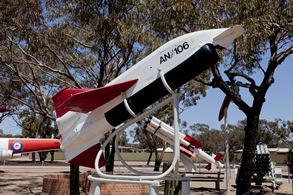 it was a Sunday and most places would be normally shut. We went to the Heritage Park where there were displays of Rockets and Aircraft.
Evidently the town is still quite active and Woomera is still used for launching satellite's on behalf of many countries. The difference is that nowadays you don't need the multitude of people to track and analyse the data of these rockets, there is a computer box on board that collects and sends the data back. Consequently, the size of the town has dropped from 7000 people to 120, hence the empty buildings. It was quite interesting.
Back on the highway, we refuelled at Glendambo and grabbed a quick bite and headed through to Coober Pedy.
Day 20: 20 October – Port Germain
We set out over the Southern Flinders Ranges, that took us up Port Germain Gorge. It was a very
narrow and winding road but quite pretty. As soon as we got to the summit, it turned to rolling farmland once again. It was quite incredible how quickly it changed. The next town was Murray Town but alas a pub but no fuel, not to worry, the next town was only 15km away. When we pull into the fuel station at Melrose, there was a sign on each pump saying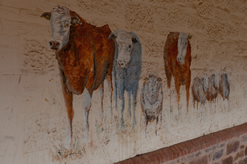 "Sorry we are currently out of Diesel"…buggar! Next stop Wilmington, some 24kms. According to the trip computer, we should make it, I just hope it is open. Luckily it was. I don't know what it is with these country towns here that have one or even two pubs but no fuel.
Well we took a look around Wilmington and visited a Toy Museum. It had a big collection of Dinky and Matchbox cars as well as Meccano, Scalectrix and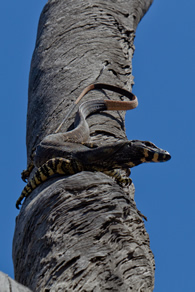 a lot of other old time toys. They had some good stuff but it looked more like a junk shop than a museum. We spoke to a lady who was a bit of a historian for the area, she was currently writing a book on the history of the area. She was quite interesting and told us about an old 36 stall shearing shed that I would be able to photograph. It sure was a big shed and I got a few shots but I really needed the afternoon light to do it justice.
Up this narrow dirt road was a Hancocks lookout that gave fantastic views across the Spencer Gulf to Whyalla, down to Port Pirie and up to Port Augusta, that covers the "Iron Triangle". On the road in we came across a flock of 14 Emu's and on the return journey, I stopped for a photo and while taking that, I heard a noise behind me. Two fairly large Goanna's were having a bit of a scrap up a tree. I managed a few good shots of them both but none of the scrap, still they were great to see.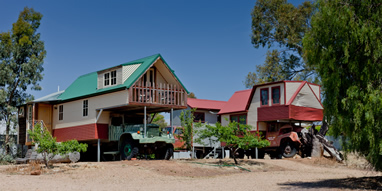 We stopped at Melrose on the way back and got some shots of the old Brewery and some trucks that had houses built on the back of them. Very quirky.
On our way to Port Pirie, there was a bit of a storm building up, it didn't seem like much but then Josie saw some lightning and we stopped and I set up the camera. There were a few big bolts, I managed to catch a couple of smaller ones but nothing really worth talking about.  That provided a bit of excitement.
We decided to have dinner at the pub tonight and I will try for a sunset shot before we have a meal.
Day 19: 19 October – Clare to Port Germain  227km Total: 5131km
After a pretty cold night, we got up early, packed the van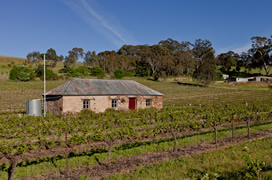 up and then went for a drive. We had planned to go back and have a look at the chapel at Seven Hill but that did not open until 9 am. So we went back to Leasingham to an old cottage I had seen the day before which I thought would look good in the morning light. We then took one of the scenic drives through Mintaro. This drive really highlighted the beautiful and historic countryside of the Clare Valley.
We went back to Seven Hill and took a look at St Aloysius chapel, very fascinating, built in 1874. Interesting that it was built some 23 years after the winery, glad to see their priorities we right.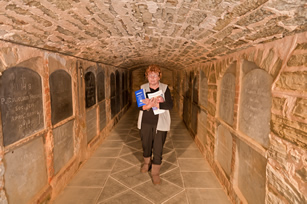 Under the chapel is a Crypt where some 40 odd Jesuit priests and fathers are buried, dating back to the 1880's, quite a bit of history. Unfortunately the chapel should be photographed in afternoon light rather than the morning. We bought another couple bottles of their College Red, Josie had complained that after having a glass with dinner, when she got up in the morning, the bottle was empty. I really don't know what happened, there must have been a leak in the bottle.
We picked up the van but we had an electrical problem, the trailer plug had had the biscuit. Luckily, I knew it was on its way out and I had a spare. Changed that over and we got underway.  We wound our way out of the Clare Valley and into the lower Flinders Ranges.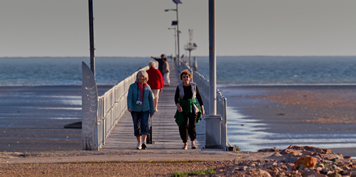 Lovely rolling countryside and quaint little towns. We stopped at Yacka, a funny little town almost like a ghost town still alive….just. Josie went to an Antiques shop where she found a sign saying "If unattended, go down the driveway on the right to the third door and knock very loudly". Josie found a shop with somebody in attendance and bought a few things.
Next stop Harry's, the store we had stopped at on the way down. We bought some more of the really nice Smoked Kingfish, it was so good, we just had to have some more.
Nearby Port Germain was our stop for a couple of nights. It is a small town on Spencer Gulf with a lot of history and has the longest wooden jetty in the Southern Hemisphere at 1500m built in 1881. I tell you what, people think the tide goes out a long way in Darwin but here doesn't seem to be any better.
Day 18: 18 October – Sunlands to Clare 189km Total: 4904km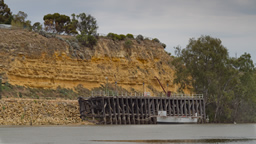 A very cold morning saw us packing up the van and saying the goodbye's.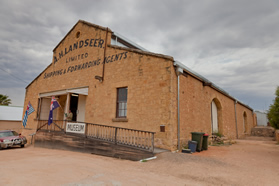 It was great staying with Allen and Leigh, they were good hosts and we thank then for making our stay a memorable one.
We left Sunlands for the ferry at Morgan. The ferry's that cross the Murray are quite intriguing, operating 24/7 at no charge. They operate via heavy steel cables that lay on the bottom of the river and big wheels on the ferry pull it across the river and while that happens, boats are not permitted to pass. They are dotted all down the river and I suppose they are cheaper than building big or lifting bridges.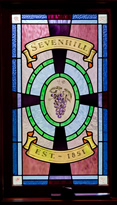 We decided to have a look through the Museum at Morgan, only small but really well done. Showing lots of river history and the importance Morgan played in its development. A bit of lunch then we decided to change our plans and go through the Clare Valley, another famous wine region.
It too, is steeped in history with some great little towns and a lot of them are only a few kilometres apart. Currently it is very green and quite beautiful.
I saw a sign for pottery at a winery, Claymore Wines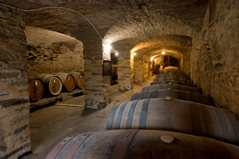 and did a U turn as Josie had been looking for a pottery to replace a couple of mugs that got broken on the trip down. While we were there I found they had a wine called "Dark side of the Moon", I had to have a bottle. It is a nice Shiraz.
We then went to the Seven Hills winery, it is the oldest in Clare Valley and established by the Jesuit priests. It is a fantastic old winery that is still run by the Jesuits and they make a nice drop. There was a magic cellar under the main building with big oak barrels. We didn't get a chance to see the chapel so we are going to call in tomorrow before leaving the valley.
Day 17: 17 October - Sunlands
After the issues with the battery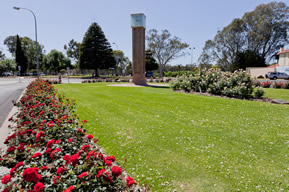 and we were about to set off into the outback, we decided to go back to Renmark and buy a "Jump Starter" so that we were independent of other motorists (if any were to be about). It seems that once the car started,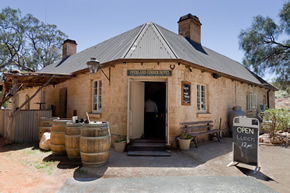 it was fine after that and the Jump starter should provide that security.
Whilst in Renmark we took advantage of a great little Caravan store and bought a few accessories for the van. We also stocked up on a few provisions ready for our return back to Darwin as we are leaving tomorrow.
Renmark is looking great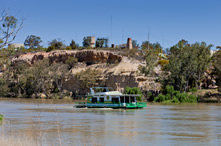 with all of the traffic islands and median strips absolutely covered in Roses. I guess being from Darwin it is a huge novelty for us.
On the way back to Waikerie, we took a different road down the other side of the river and we came across the Overland Bend Hotel. Built in 1859, it was a stop on the Overland route to Sydney and is now a café with a lot of the old hotel turned into a simple museum. A nice little spot to have lunch and/or a cool ale.
The rest of the day was spent getting ready for tomorrows departure.
Day 16: 16 October - Sunlands
The day started with another flat battery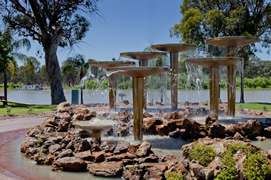 …Houston we have a problem.
We went through to Renmark to get an auto spark to check it out. After a couple of hours, they decided that the issue must be intermittent and could not trace it.
On our way back to Waikerie, we called into Banrock Station winery but we didn't realise how late it was as they were just closing up…it was 4.15 and they closed at 4.00 pm. What a waste of a day with the problem not resolved.
Day 15: 15 October – Sunlands
We all bundled in two cars and went off for a tour of the Riverland down to Mannum and back through the Barossa Valley.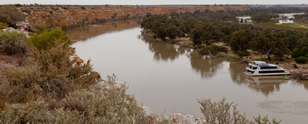 We took a back road to Blanchtown and managed a shot of a couple Shingleback Lizards crossing the road. This road took us down the Murray and after stopping at a few lookouts it was quite amasing to see such flat land plummet 100's of feet into the river. I could imagine a stockman heading across the plain at night on horseback at night and all of a sudden coming across the cliff edge and plunging into the river.
There is so much history surrounding the river, old towns, building and many ruins in paddocks that would make great photographic subjects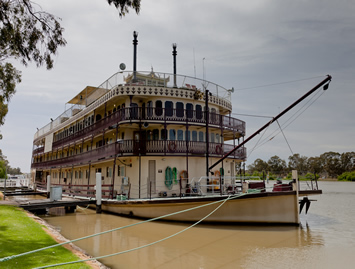 if you had the time to spend. This history is great to see and you can appreciate why the Murray was so important in the development of inland Australia.
We went through some quaint little towns, Swan Reach, Nildottie, Purnong before getting to the main town of Mannum. This was the home of the PS Murray Princess, a beautiful Paddle Steamer built in the style of the old Mississippi vessels.
Some fast facts:
Tonnage – 1500 tons
Length – 67 metres
Beam – 15 metres
Draft - 1.2 metres
Speed – 6 knots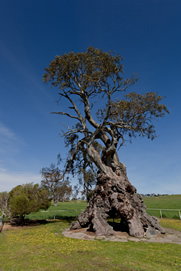 She was moored at a beautiful park right in town where, after a visit to a chocolate shop, we had lunch on the river, very relaxing.
Leaving Mannum took us across some very flat country until heading up a fairly steep hill near Palmer. A lookout there gave spectacular views across to flat lands to the towns on the Murray. It was a vista that a photo could not do justice.
The countryside had changed quite dramatically and was now beautiful rolling, green hills with many very large trees. One of the largest trees was at Springton where a settler and his wife had lived for many years "in" the base of the tree, now historically preserved.
We made our through the Barossa Valley, home of some of the best Reds in the country, also steeped in history and very beautiful.
We got back late so we decided to have a BBQ at our caravan and we impressed ourselves being able to cater for six people, we had a good night to finish a magic day.
Day 14: 14 October – Sunlands
Today was to be a little quieter, Leigh's sister had driven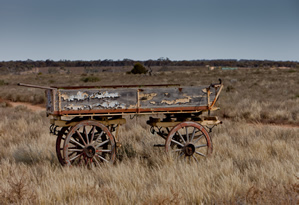 down from Canberra the day before so things were a bit slower to happen. This was good for me as I was able to catch up on publishing this on the web as I was so far behind.
After having lunch we took the Waikerie ferry across the river to explore the other side of the river. We called into Lock 2, which looked like the other locks on the river. I must say that the authorities have made an effort to create some nice parkland areas around these locks.
On our way through to Morgan we stopped at a spot where there was an old bullock cart in the paddock, I got a few pics.
Morgan is an interesting and very historic town, I want to come back and capture its magic in the morning light. Allen and the crew left us at Cadell while we when to explore it. Well that took 2 and a half nanosecounds….it is a very small place.
Sunset looked promising, we went to Ramco lagoon but it was a fizzer.
Day 13: 13 October – Sunlands
Allen took us on a "Tiki Tour" of the area,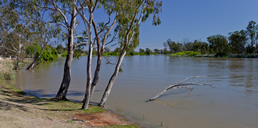 Leigh was a bit crook so. She stayed behind. We loaded ourselves, Malibu and Wally (Allen's Fox Terrier) into the Suzuki and off we went.
First stop was Kingston where we were met by a small family of Wood Ducks. Very cute and there a number of these around at the moment, it must be the season??? We passed through a lot of vineyards on our way to Berri and the local Farmers Market. It was a small market but had some nice local fruit and preserves.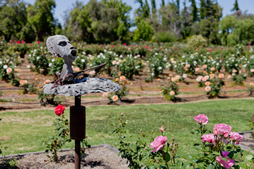 We then moved onto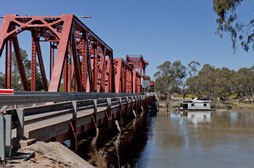 Renmark where we had a look at the houseboats on the river and it is amasing how fancy and big some these houseboats are.  We had a look at PS (Paddle Steamer) Industry before heading to Paringa. We encountered a red light just before crossing the river, the bridge was being raised to let a houseboat through so I was lucky enough to get a photo. We then moved downstream to see the same boat go through the lock.
The road then took us to Loxton and down near the river I managed to get some photos of a Superb Fairy-Wren, tricky little birds to capture. We then made our way back to Allen's place after a big day.
Day 12: 12 October – Adelaide to Sunlands 364km Total: 3803 km
Checked out of Windsor Gardens and Josie wanted to catch up with an old family friend, so we made our way across town to Somerton Park near Glenelg. Aileen was so surprised to see us and it was great to spend an hour or so with her.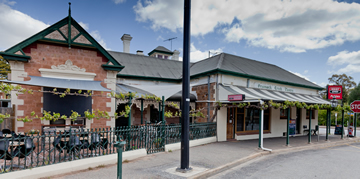 The next challenge was to transverse Adelaide once again and it is not easy with the van and making a bit of botch of my exit from the city, eventually my GPS got us back on track. We made a detour at Greenock, which is a quaint little village in the Barossa and then on to Nurioopta for a very late lunch.
We got back to Allen & Leigh's and set up the van before going down to Waikerie Hotel for a nice meal and a good bottle of Scribbler (a great Red).
Day 11: 11 October – Adelaide
Today is Josie's birthday and unfortunately it wasn't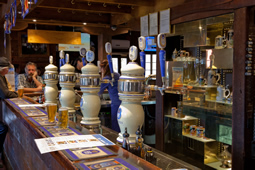 very special, it was to be a day of looking at more caravans and it was extremely cold. It wasn't just a couple whinging Darwinians but it had actually snowed on Mt Lofty and the van park we were staying at was at the base of it. It was also very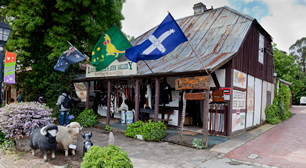 windy and lots of showers so the viewing of Caravans was quite a challenge. By that time we had pretty well made up our mind that we were going to stick with what we have.
Giving up on caravans, we decided to go up to Hahndorf for lunch, it is one of Josie's favourite places. The oldest German town in Australia, a beautiful little village with a lot of old buildings. We had lunch at the Hahndorf Inn and Josie had the Cream of Zucchini soup, which was soon to upset her stomach. We had to stay close to local conveniences for a while before heading back to Windsor Gardens.
Day 10: 10 October – Sunlands to Adelaide 242km Total: 3439 km
Part of the reason for the trip was to look at downsizing the van to something a little shorter and lighter so we thought that we should take off for Adelaide to have a look at some caravans. We set off about 10.30 and it was a nice drive.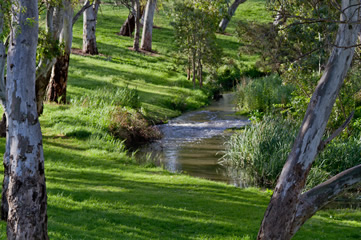 The weather bureau had forecast that there was a change coming with high winds and cold weather. Those high winds hit as we were approaching Adelaide and made driving with the van fairly exciting. It pushed us around something chronic.
We made it to the Windsor Gardens Caravan Park, a really nice park and we picked up the last big van site they had available.
We then started the search for a new van, there are some flash new ones out there with some features that would be great but, it is hard to beat our Princeton.
Late in the afternoon the temperature dropped significantly and got quite blowie as well.
Day 9: 9 October – Sunlands
Today is our 5th Wedding Anniversary and had nothing special planned.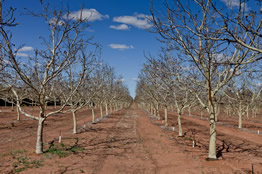 Allen and Leigh are in the middle of renovations and Allen is helping the builder so, he won't be able to spend much time with us during the day. We, or should I say, I had a slow start to the day, a good sleep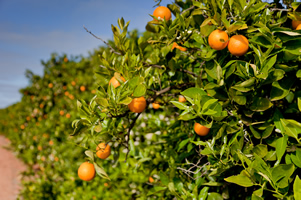 in and catch upon a little bit of work etc.
Allen was finished with the builder around lunchtime and then took us a bit of a tour of Waikerie and nearby Ramco. That gave me my bearings for the area and it is a nice spot. We had to take the Nissan for a run to charge up the Engel battery so we went down to Ramco lagoon to check out what wildlife may be there and some photo opportunities towards sunset. We did not stay as long as sunset, as it was too cold for us, but I got some nice shots of some Crepuscular (sun rays).
Day 8: 8 October – Port Augusta to Sunlands 320km Total: 3197 km
A leisurely start to the day as we did not have a lot of miles to cover.  Surprisingly, the road to Adelaide is not a dual carriageway as it carries a lot traffic but there are quite frequent passing lanes so it is not too bad.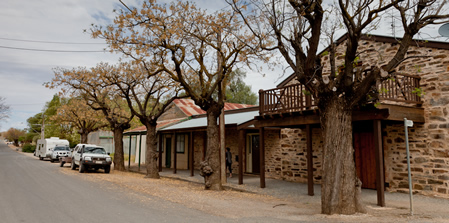 First stop was a little shop on the side of the road called Harry's. A great little shop that Sharon (Josie's daughter) had told us about, it sell lots of homemade Jam's, pickles (including Seafood)and smoked Fish, not to mention the 1 metre long Salami's. We bought some smoked fish and pickled marinara mix.
After the turnoff at Crystal Brook, it was great to see winding roads through some really nice country. The other thing of note was old buildings especially the ruins that dot the landscape. These buildings are always a novelty as we just don't have really old buildings in Darwin. We stopped at Burra for lunch which is a great little spot, very steeped in history and lots of those old buildings.
The road after leaving Burra, soon left the nice undulating countryside, returning to the flat, sparse landscape we had up north with one exception, there was heaps of reptiles on the road (a lot, sadly had that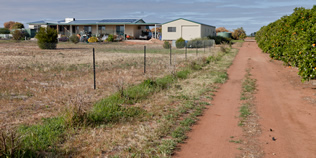 "run down feeling"). They were mainly Shinglebacks and some, what looked like Bearded Dragons.  
Next, we crossed the Murray River at the historic town of Morgan. This was our first view of the "Mighty Murray" and it was great to cross it by ferry…a free one at that. It was then a short run down to Allen & Leigh's at Sunlands, travelling through lots of vineyards and citrus orchards.
Allen's place is set in amongst orange groves and they are currently in flower so the scent is very strong.
Day 7: 7 October Coober Pedy to Port Augusta 558km Total: 2877 km
Daylight saving kicked in for South Australia overnight so, we got away

an hour later. It is a fairly non-descript drive, reasonably flat country with either no trees or short mulga scrub. We did come across a few flocks of Emu's, quite a few Wedgies (Wedge Tail Eagle, Australia's largest raptor) and even a Fox.
A bit of lunch at Glendambo and onto Lake Hart, one of the many salt lakes in the area. Got the usual photos and on the road again.
We stopped for the night at Port Augusta where we found a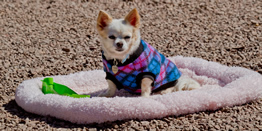 nice Caravan park right on an estuary. We have now gone Coast to Coast. On opening the van we found a couple of cupboards open and some of their contents on the floor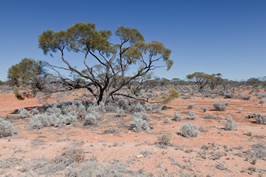 including two of Josie's favourite cups, broken. This was unusal as the van normally rode quite smoothly.
We sure know we are in Australia's driest state, yesterday at Coober Pedy we had to pay 20 cents per 2 minutes of shower, there were no lawns or grass and at this van park that states "Anyone caught wasting water will be evicted immediately".
The Flinders Ranges looked beautiful as the sun was setting while we were taking Malibu for a walk along the estuary.
Day 6: 6 October – Marla to Coober Pedy 301km Total: 2319 km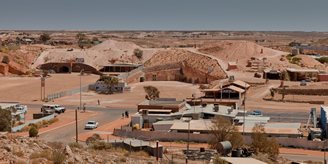 We woke to a cool and fairly strong breeze. The temp had dropped significantly and was nice to pack up but on the road the wind did push us around a fair bit. It was a fairly short run down to Coober Pedy arriving before lunch and having never been here before, it was a good chance to have a look around.
This place is very different….and I mean different. Driving in, there heaps of "Diggings" all over the landscape and the town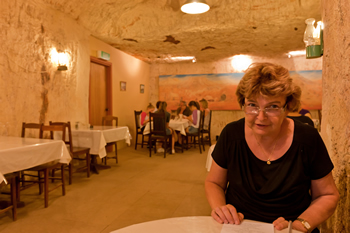 was a whole lot bigger than I expected. Coober Pedy is an Opal mining town that produces some 80% of the world's Opals and I think it has 80% of the world's eccentrics.
Most of the housing is underground, all you see is a front door on the side of a hill and the rooms are all dug out of the earth, commonly called "Dugouts". These provide a constant temperature of 25 deg, that may sound a little warm but,it does regularly get over 50 deg and sometime 60 in the summer months and below 10 deg in winter. 
We had coffee and a snack at one of the "Dugout" Cafes, it was well done and very pleasant.
Interesting the way it got its name, it is an anglicised version of the Aboriginal name Kupa Piti, commonly assumed to mean "white man in a hole".
Day 5: 5 October – Alice Springs to Marla – 454km Total: 2018km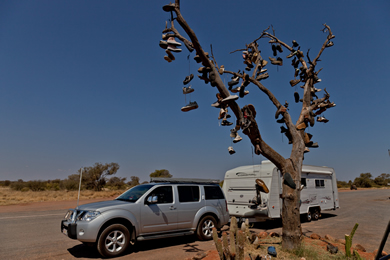 Made a quick trip to the Dump Point and onto the Motor Registry to get the rego papers for the van. All was good and we set off on our holiday and  work was now behind us and we were pretty glad to be leaving Alice.
First comfort stop was at Stuarts Well and it looks like a really nice spot so we will be stopping there on the way back.
Erldunda was the next stop and what busy place that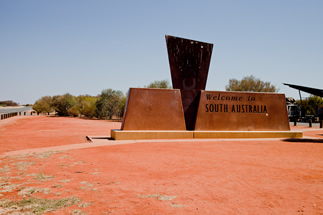 was. It is right on the turnoff to Ayers Rock, and bloody hot, it was 39 deg. We were going to stop for lunch but too busy, too hot, so we moved on.
We pulled into a Truck stop and found a bit of shade away from the truck parking bays. As soon as we pulled up, some Budgies turned up to check us out and I was lucky enough to get a couple of shots. It was amasing how many birds there were around for being in the middle of nowhere.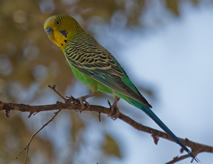 Next stop, Kulgera "the first and last Pub in the Territory". We got fuel, some souvenirs and a couple of shots of the boot tree before hitting the "Frog and Toad".
Marla is quite a complex with most services, Police, Ambo's, and most services. The caravan park is quite good with lots of lawn and drive through sites. It was still very hot when we arrived but in the shade with a breeze (and a cool beer) it was very pleasant.
Day 4: 4 October Alice Springs 78km Total: 1564km
A day of work, I got through quite a few calls but after one, I checked my emails and I had one from Josie and this is what it said: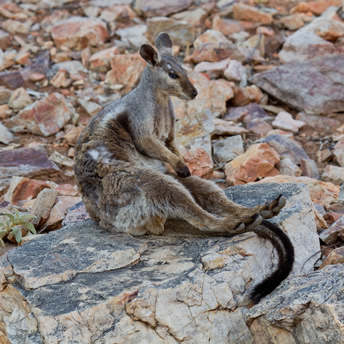 " I have just had a bad experience, I went into Ladies toilet, and there was a crazy white woman and a black man in there having sex, they took off when I went in there, then she went out of control screaming, swearing. The black one was not troublesome , but they both stank. They had a white van, they got in it after bashing the bus which had pulled up, then went screeching around the park. I wanted to go up to the office to get help, but I was too scared to, so I went back to our van and put Malibu inside and locked the door."
Consequently, I headed straight back to the van park to make sure that Josie was alright. She was OK but still upset by the whole drama. We have now had two bad experiences in Alice caravan parks in two visits and we are leaving Alice a little earlier than we had planned.
This evening we stocked up on some Groceries and went to John Flynn's grave, to view the sunset.
John Flynn was the father of the Flying Doctor Service (Flynn of the Inland) and is commemorated on our $20 note.
Day 3: 3 October – Wycliffe Well to Alice Springs  376km Total: 1486km
We past the first test with flying colours, the car started hee haa! It had been a fairly cold night so we were a little slow to get going, but all good.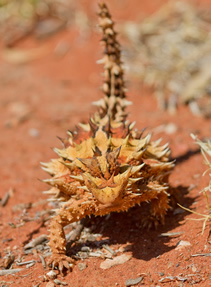 First stop was Ti Tree for fuel and to catch up with emails, as we pulled in, Josie spotted a Thorny Devil on the side of the road. This was a complete bonus as we had never seen one in the wild. I ushered him off the road and took a heap of photos. What an awesome and beautiful little reptile.
I caught up with email whilst having a cuppa in the local park. It was necessary for me to keep a close eye on them as Greg was out of town as well.
On route to Alice we stopped at Aileron and Ryans Well for photos and then Conners Well rest area for lunch. There were a series of wells built in the mid 1800's that enabled the Overland Telegraph to be completed. These also helped open up Central Australia for the cattlemen and settlement.  We left the Tropics, passing the Tropic of Capricorn about an hour north of Alice.
We were staying at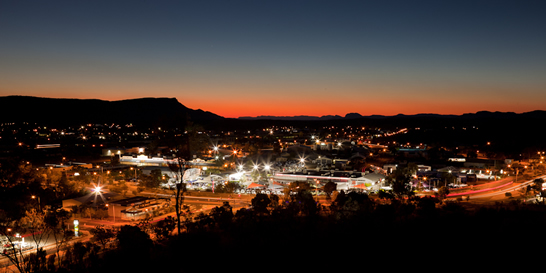 Heavytree Gap Caravan Park for the first time. Our choices are limited having Malibu. It seems like a nice park, backing onto the MacDonnell ranges which are very picturesque. At 5pm each day the Black-footed Rock Wallaby's come down to be fed. Good to see and got a few photo's. They did look a little ragged, like they fight a lot.
For sunset we headed up ANZAC hill overlooking Alice and the MacDonnell's. A nice spot  and it look great once the sun goes down and the lights of the city come up.
Day 2: 2 October – Mataranka to Wycliff Well - 693km Total: 1110km
Well, we were already for a quick departure, jumped in the car and……rooh rooh! A bat flattery, bugga!!! Fearing the worst, I called Nissan Roadside Assistance and the very helpful lady sent somebody out. We weren't sure if they had a local serviceman or they would have to come from Katherine about an hour away. To our delight he turned up in about 20 minut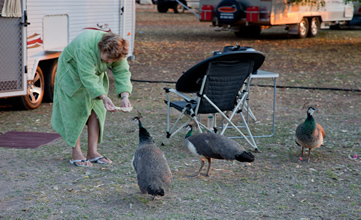 es…bonus. A jumpstart got us going and he said to call into the local garage to check if the alternator was charging or not. It was charging as it should and the car restarted.  As he had no way of properly testing the battery nor a replacement, we were faced a choice, head back to Katherine to get the battery checked or make a run for Tennant Creek, some 570 km's away. I decided (note I said I) on the latter.
We got away about 8.45, so quite a bit behind where I wanted to be still, we were travelling with fingers crossed.  It was amasing how much land had been burnt during our dry season, at one stage we went for 40 - 50 km's of nothing but burnt out bushland. The radio suggested that the areas around Alice Springs that were burnt was greater that the whole state of Tasmania….awe ok, maybe that's not that big but....
Just south of Daly Waters, a Semi full of those big round hay bales lost 5 or 6 of them as he came around the corner ahead of us fortunately, they fell away from the road. When advised on UHF radio that he had lost them the truckie replied "Thanks but nothing much I can do" and keep driving, I suppose he was right, they were off the road.
We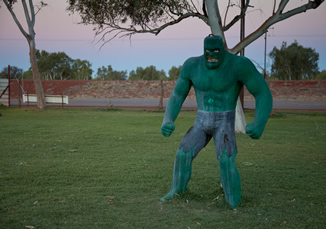 decided to stop (and leave the car running) for lunch and a cuppa at Newcastle Waters. I started to set up, small problem!!! The back door would not open (electric latch) so, no cuppa but worse still….the cold beer was in that Engel. This was not good, so we left.
Just 20 km's down the road is the town of Elliot and this was to be our first big test as you have to turn the car off whilst refuelling. Restarting worked a treat and a bonus was a couple of the warning lights were no longer on. Off we trundled off having passed that hurdle (still no back door), many miles left me pondering what was going on and then I came up with a great theory. As I had left the caravan attached last night, maybe, just maybe something in the van had drawn enough power to drain the battery (my old Pathfinder had a solenoid to prevent that happening) but that still didn't explain the back doors.
I put the theory to test at Tennant Creek whilst refuelling (I figured that if I was wrong that they would have to help as I was parked in front of their bowser). I shut the motor down and locked the car, when I unlocked, the back doors were open….bargain, I could have a beer tonight….I mean all was fixed.
When we stopped at Wycliff Well, the first thing I did was disconnect the caravan then have a beer thinking about what if "my" decision had been wrong.
Day 1: 1 October – Darwin to Mataranka – 417km
After completing my Bunnings orders and finalising the setup of our new cloud computing system, we pulled out just after lunch. As usual we were scratching our heads as to what we had forgotten and it wasn't till a way down the track that I realised that I had left the caravan rego papers and our Austar box behind……too late now.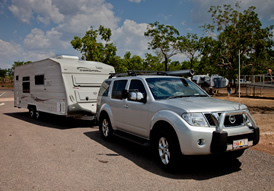 Got to Adelaide River for our usual comfort stop but there was a heap of roadworks right through the middle of this small town and that made it difficult to stop so, we headed on to the roadside stop at Bridge Creek???. They had recently upgraded this site adding toilets, picnic tables and basic BBQs and it was done quite well.
There were still major bridge and earthworks happening at Edith River after the big derailment last wet season.
Today is the first day of our new wet season but we did not encounter any showers (unless count 4 drops that hit our windscreen from who knows where).
After refuelling in Katherine, we pulled into Mataranka after six, a little late but I had no intention of unhooking the van and doing a proper set up. Plugged in and set up the sat dish was the extent of the set up and that makes for a quick getaway in the morning.