.: Darwin - Alice Springs April 2010
This will updated most nights except if we don't have mobile reception and that happens a bit in the Outback also

if you have just joined us, please read from the bottom up.
Day 22 - Pine Creek to Darwin- 232 km Total: 4673 km - 22 April 2010
On the road for the last time this trip, bit of a late start but we were not in any hurry. Progress was slowed a little by a bit of roadworks.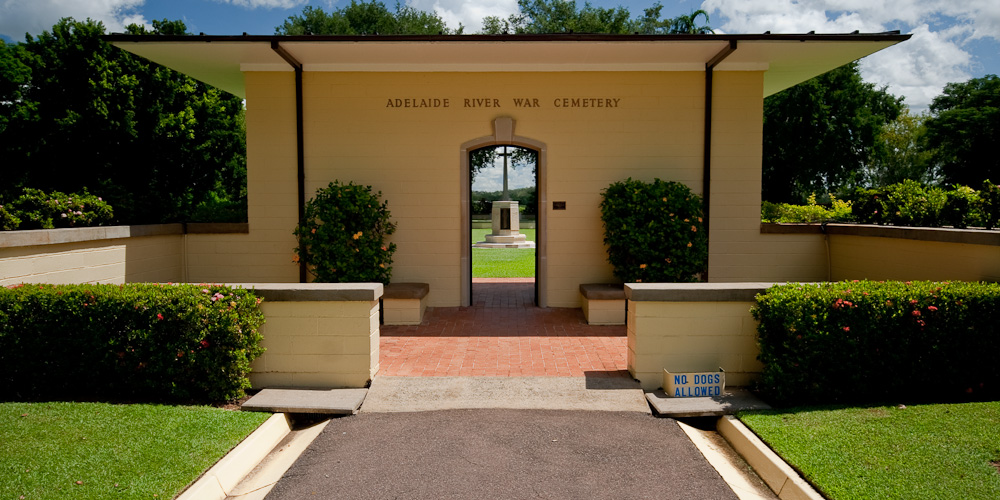 Stopped at The War Cemetery in Adelaide River, a very sollom place but a very well looked after spot, manicured lawns and gardens and a fitting tribute to the 434 Servicemen, 63 civilians killed in the bombing raids on Darwin and another 292 people Missing in Action, that all have plagues there. We did the ANZAC Day dawn service there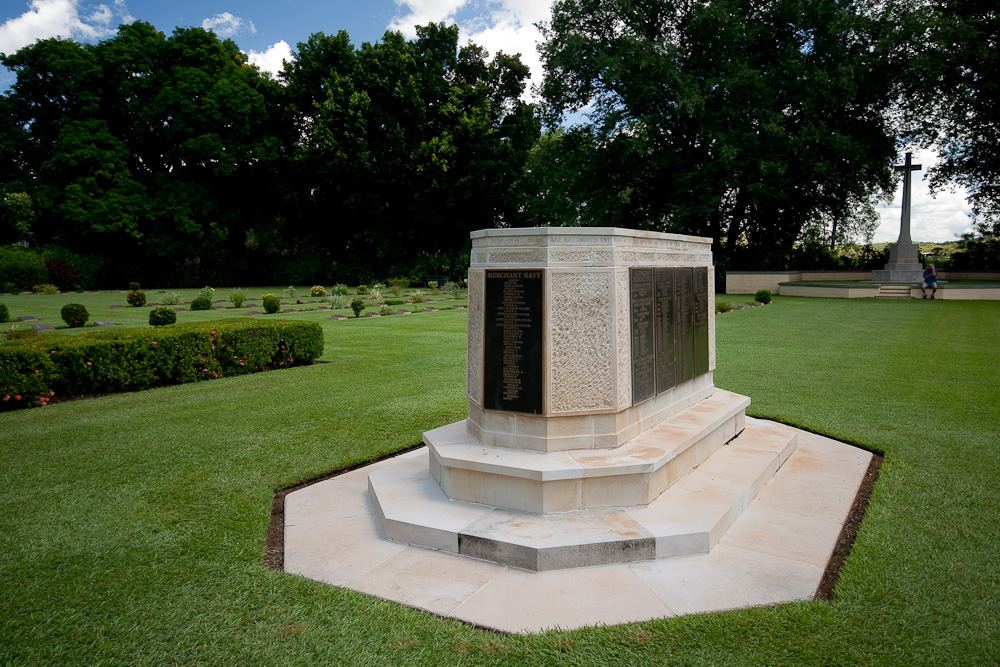 last year and that was really moving and the ceremony took on a whole new feeling.
Time for a rant: Something that a lot of people are not aware of, in Australia, if you serve overseas you are untitled to extra benefits in both health and pensions and rightfully so. However, if you served in Darwin, a theatre of war in WWII, no extra benefits as you did not go overseas. But if you served at Rottnest Island, 20km from Fremantle and nowhere near any action,which was outside the old 12 mile limit so you get all the benefits. The Men and Women that served in Darwin were actually defending our soil, not somebody else's and get bugger all. How wrong is that???...end of Rant.
We got back into Darwin early afternoon and started the usual washing...clothes and vehicles.
Another fine journey concludes.
Day 21 - Daly Waters to Pine Creek - 385 km Total: 4441 km - 21 April 2010
This morning there was quite a ruckus outside our van and it was Apostlebirds, demanding a feed. They are very comical birds that chatter and argue amongst themselves.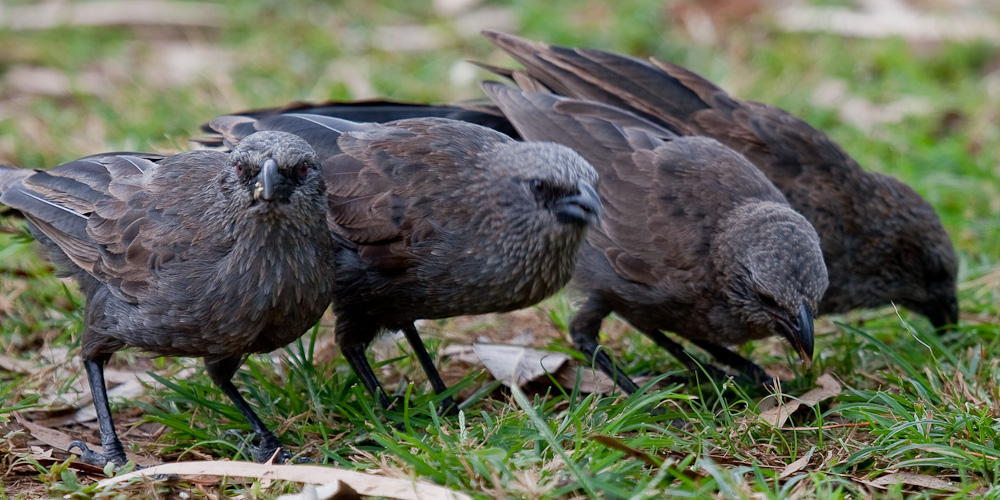 On the road, it was a very straightforward and uneventful run through to Warloch Ponds rest stop for a cupper. A compliment here to the Government for setting up some very good roadside stops with Toilets, there is a way to go but they are heading in the right direction. Managed to nab a new species of Honeyeater while we were there.
Onto to Katherine for a quick refueling stop and back on the road to Pine Creek. It was noticeably drier, the spear grass was knocked down and there were already fires starting to happen. We set up in Pine Creek and then went looking for the Hooded Parrot that is endemic to this region, but alas, no luck.
As it was our last night on the road, we decided to treat ourselves and have a great steak sandwich at the Lazy Lizard. And it was good.
Day 20 - Attack Creek to Daly Waters - 330 km Total: 4056 km - 20 April 2010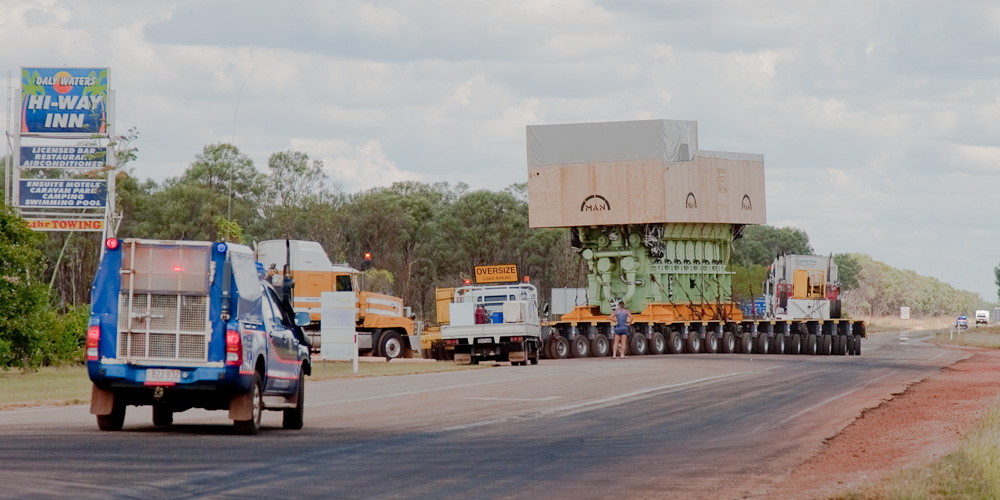 After a fairly ordinary night, hot and no air con, we got away fairly early. We had planned to to stay at Elliot but being fairly close, we decided to push on to Daly Waters.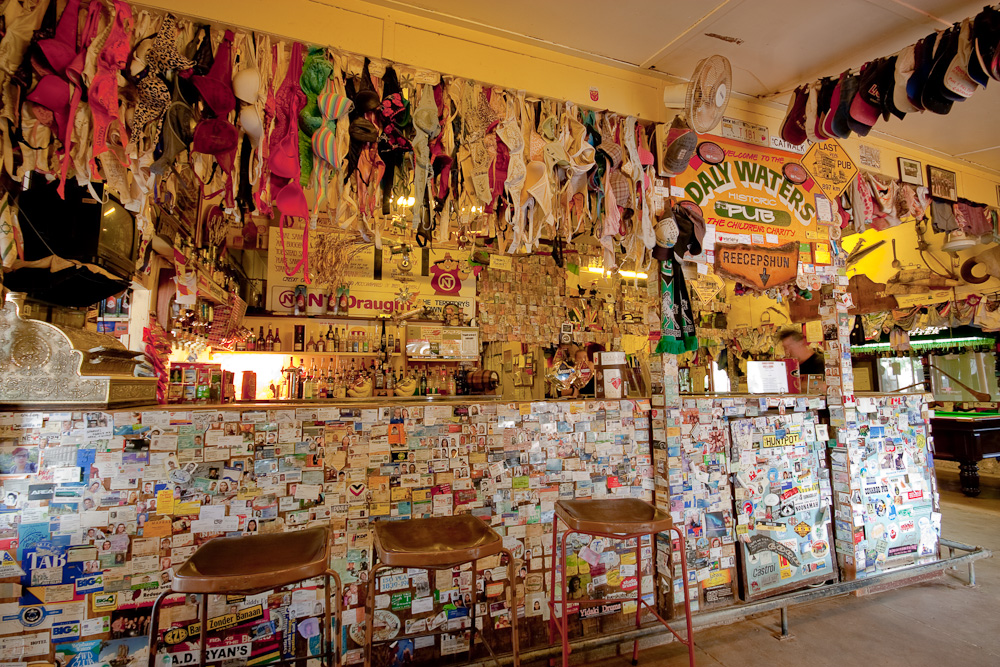 On the way we saw massive flocks of Pelicans flying overhead, a pretty awesome sight. We pulled into the Hi Way Inn and there was a huge truck there with a massive Diesel motor on it. There were 2 primemovers pulling it and 1 pushing it and the trailer had 18 rows of wheels, all steering and a big police escort.
We decided to spend the night at Daly Waters, I told you a bit about on the way down. A really interesting spot, the bar ia full of memorabilia of various types from Bra's and Knickers to Number plates, Notes and Coin from around the world. One of their main claims to fame here is that it was probably the first Australian international airline hub with it being a refueling stop on the Kangaroo route in the mid 1930's. It was also a major air base in the 2nd World War.
Day 19 - Wycliffe Well to Attack Creek - 214 km Total: 3726 km - 19 April 2010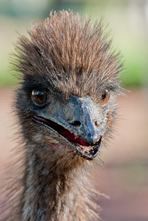 We had a walk around Wycliffe Well to look at the Emu's and other birds, a nice spot to stop.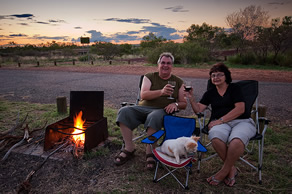 The owners have put in a lot of effort to make the place nice considering it is in the middle of nowhere. Tennant Creek was the next stop where I did another call on a small hardware store and we got a few more supplies and set off for Attack Creek. It is a roadside stop and as we had not done a free camp this trip, we decided to have a night under the stars, it was great, cooked the snags on the fire BBQ and toasted the trip.
Attack Creek was name after John McDouall Stuart and his party were attacked by local Aboriginals on one of his expeditions in 1860. He was the first person to cross the continent from South to North and opened up a lot of the Territory for both grazing and mining.
Day 18 - Glen Helen to Wycliffe Well - 502 km Total: 3512 km - 18 April 2010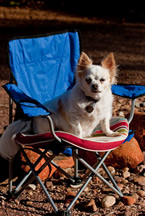 We had a leisurely start to the day but leaving too early would have meant heading into the the rising sun. It was a beautiful drive back to Alice Springs. Grabbed some fuel and checked the emails in Alice before heading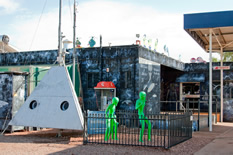 off. We did encountered quite a few Bearded Dragons on the road but unfortunately, didn't get any photo's.
Stopped at Ti Tree for a top up of fuel. Its' claim to fame is being "the most central pub in Australia" and I got the stubby cooler to prove it. We stopped for the night at Wycliffe Well and met our friends from Ali Curung for dinner. A good night and great to catch up. Wycliffe Well claims to be the UFO capital of Australia, not sure on its authenicity, but sounds like a good yarn and the caravan park has little green men around the place. It is another outback spot where they have too much time on their hands.
Day 17 - Glen Helen - 125 km Total: 3010 km - 17 April 2010
Got up early this morning to catch the sunrise on Mt Sonder, the fourth highest peak in the NT. The surise itself was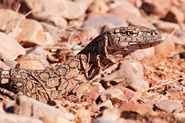 pretty ordinary but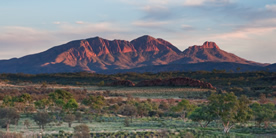 I manage a nice shot. After breakfast, we set off to see the local gorges, unfortunately, we could not get into most of the them as we had Malibu with us and she is not allowed into National Parks.
Just after leaving Glen Helen we came across a Perentie Goanna, Australias largest lizard. Managed to get a couple of photos before he did a runner. We travelled on to Redbank Gorge where it was a 20 minute walk in and that is far too long to leave Malibu so we moved on to Ormiston Gorge. Found a really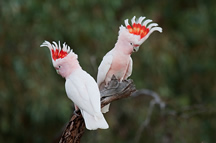 nice spot on the way in at one of the crossings. It was alive with Budgies, heaps of the them making a real racket. Ormistion Gorge was pretty specky with very high red walls and a beautiful waterhole at their base. We moved on to a couple of others but same deal, too far to go without Mailbu.
Headed out for the sunset shot, went about 30 km to the west looking for a good setting then Josie spotted some Major Mitchell Cockatoos. A beautiful bird and I was lucky enough to get a few shots in failing light.
Day 16 - Alice Springs to Glen Helen - 82 km Total: 2895 km - 16 April 2010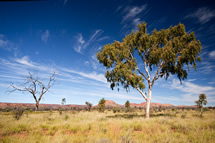 We left Alice this morning. It is is an interesting place to say the least.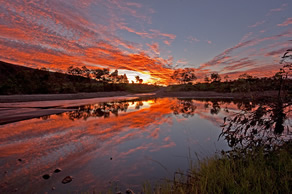 I have been here many times and usually enjoyed my visits. The people here a great and very friendly but rarely venture out of their homes or work as the town itself is not a very nice place to be.
We headed west on Namajitira Drive and it is a really beautiful drive. The ranges provide a pretty special vista as we travelled. We stopped at a roadside stop which was high up and gave us a great view across the the valleys. Quite a few water crossings made for some nice views but nothing really photogenic.
Glen Helen is a really nice spot, out of our caravan, we can see the majesty of the red rocky hills, just beautiful.I missed the shot I wanted tonight but we went down to the Finke river crossing and were treated to a spectacular sunset.
Days 14 & 15 - Alice Springs - 267 km Total: 2813 km - 14 & 15 April 2010
Wednesday was very similar, finalising my last calls and getting ready for a big trade night. It was a very succesful night with over 300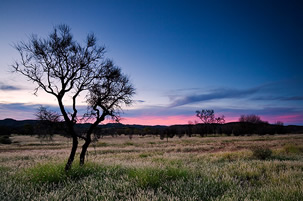 tradies attending. I managed to sell around $24,000 of our product in the 3 hours so I was fairly happy with that. Pretty stuffed by the end of the night though.
Thursday gave us a chance to replenish the supplies, bought Malibu a chair and a few other bits and pieces for the van. Had booked the car in for a couple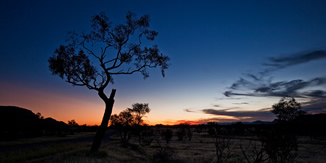 of new tyres, went there to get it done and the tyres hadn't turned up and wouldn't be here until next week. That is so typical of transport issus in the Outback. We will just have trust that the Brigdestones will last.
Another little mishap happened this avro, we were talking to a fellow vanner when they said "You have water leaking out of your van" aaahhh! we had left the sink tap running with the plug in, and the water overflowed into the cupboards and onto the floor. All cleaned up ok and should be ok. We headed out for a nice sunset but mother nature didn't turn on a big show.
Day 13 - Alice Springs - 73 km Total: 2546 km - 13 April 2010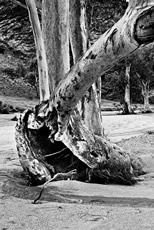 Another day of mostly work. It looked as though the weather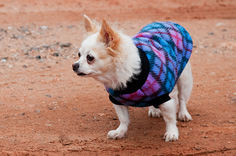 was clearing this morning but by this arvo the cloud had moved in again with no rain. It is expected that the weather will be back to nornal starting tomorrow.
After work we went out the Simpsons Gap to see if we could see the Black Footed Rock Wallaby. But no luck but, did find a photo opportunity for a near midday shot so, will return.
Josie has been a bit better today but still not on top of the Tonsilitis as yet.
Day 12 - Alice Springs - 82 km Total: 2473 km - 12 April 2010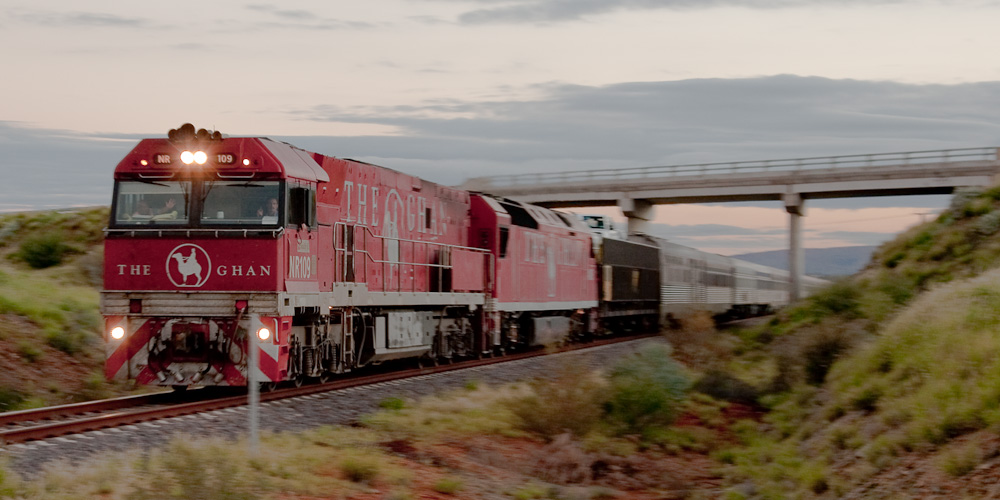 After the weekend where Josie was feeling fairly crook, we decided to get to the Doctor and found a clinic that would see her fairly quickly. Well, Tonsilitis was the call. No wonder Josie wasn't feeling the best.
The best thing was to put her to work, so Josie helped me with a store setup that took most of the afternoon. Following that, we headed out to get a photo of The Ghan leaving Alice for Darwin.
Day 11 - Alice Springs - 69 km Total: 2391 km - 11 April 2010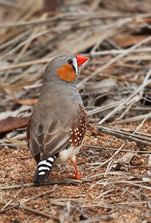 Today was fairly subdued due to a couple of reasons, the weather didn't lend itself to much activity and Josie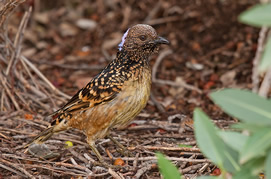 has caught the wog and has been feeling fairly ordinary. So we headed into town to get a few things and then went to the Alice Springs Reptile Park. It is a small reptile park set in an old house and quite informative.
I the afternoon we did a quick trip back out to Jesse Gap to try and get a better photo of the Western Bowerbird, which I managed to do along with a couple of other birds as well.
The tavern just just up the road has $10 Sunday Roasts, so that had our name on it and it was pretty good too. A bonus was, there was a reptile show put on by the Reptile centre. It was very informative and very humorous.
Day 10 - Alice Springs - 165 km Total: 2322 km - 10 April 2010
This morning saw cloud over the MacDonnells, an unusual sight and our friends packed up and left for home. We headed out and found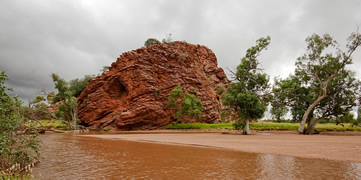 that most of the floodwater in the Todd had abated but still flowing. Soon after that it bucketed down. We headed out to Honeymoon Gap where the river was flowing. Managed a couple of pics before going back into town. It did look like we were going to have a day in the caravan but the rain broke so we headed out to the East Mac's.
First stop, Emily Gap where we had some lunch. We couldn't actually walk into the Gap as the water was fairly high. For those who are not familiar, the MacDonnell ranges run east - west through Alice Springs and are only a few hundred metres wide. Throughout the ranges are gaps had become waterways (when there is water about) and a bit of an oasis for animals and humans alike.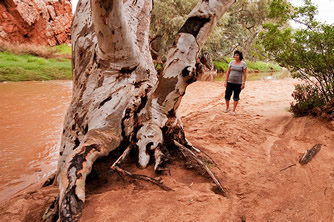 Some of the gaps have very old Aboriginal paintings in them.
Then we moved on to Jesse Gap. This is a great spot with heaps of birds and we managed to see a Rock Wallaby. It was amasing to see how easily these guys get around on near vertical rock formations. Managed to get shots of a couple of new species of birds, Western Bowerbird in front of his Bower and the Grey Headed Honeyeater along with some nice shots around the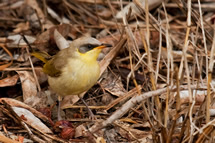 Gap. Some amasing trees in these waterways.
We headed further east but the weather was starting to close in again. We got to Corroboree Rock and just as we walked down to the information shelter, the heavens really opened up. We got drenched getting back to the car and decided to call it a day.
This evening is the first that we have had the heater on in the van.
Day 9 - Alice Springs - 83 km Total: 2157 km - 9 April 2010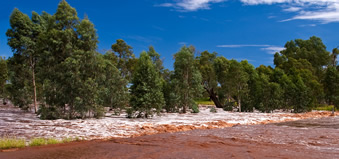 It was a very stormy night with a lot of rain and lightning. After a bit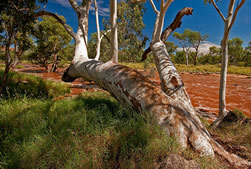 of a late start, we went out to find the one of the roads to our camp site cut with the Todd River flowing. That is something of a rarity, in fact it is said that you are are not a local until you have seen the Todd flow three times. However, it has flowed three times this year, a very unusual event. It is an impressive sight and it came up very quickly. The river, which is normally a totally dry sand bed, is fast moving and red in colour, cleaning out the rubbish that has accumulated over the duration since the last flow.
I completed my work and then set about trying to capture some of the essence of the event. A magical sight.
Days 7 & 8 - Alice Springs - 142 km Total: 2074 km - 7 & 8 April 2010
With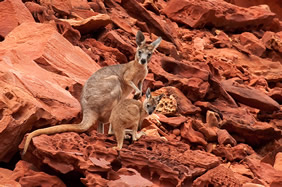 one day just working, the next saw us head off to Rainbow Valley in the early afternoon with new found friends,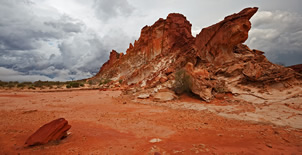 Ken and Heather. It was a great afternoon. Rainbow Valley is a beautiful spot with sandstone cliffs coming out of a sandy clay pan. We didn't get the sunset colour's we were hoping for but various storms around the area provided some interesting vistas. There were also quite a bit of bird life around where I added some new species to my NT list, Zebra Finches, Peregrine Falcon amongst others.
We left there just on dark for the 80 km back to town. Along the way there were many storm cells around us with lots of lightning. Back at camp, we had dinner with Ken & Heather and it was a great end to a fantastic afternoon, I think a few bottles of Red helped.
Day 6 - Alice Springs - 97 km Total: 1932 km - 6 April 2010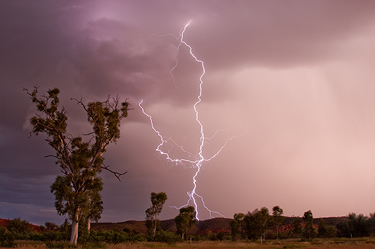 Today got off to a very ordinary start, Josie went for a shower early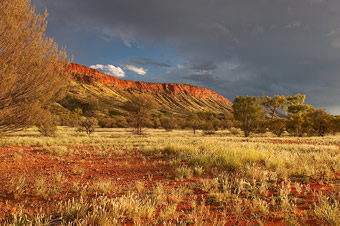 this morning whilst I was still still asleep, somebody entered our caravan and stole my wallet, brand new iPhone and one of my cameras, all off the table. Beside the table was both of our laptops, thank goodness they never touched them. I have been very polite here as this is a family show but that certainly wasn't the case this morning. I was about to demote Malibu for not setting off the alarm but Josie pointed out that was in the same boat.
Well the rest of the day was spent talking with police, cancelling cards, organising a new license, buying a new wallet and getting quotes on replacing my gear of mine.
Here is a quote from a photography friend that sums up the situation nicely. JR said " Seriously, may the vacuum between the ears of that thieving moron multiply to such a vast negativity that he/she disappears of the face of this earth, leaving nothing behind but your property." Well said mate.
Day 5 - Wauchope to Alice Springs - 444 km Total: 1735 km - 5 April 2010
We set off around 8.30 and headed south. First stop was Barrow Creek, one of the Overland Telegraph Stations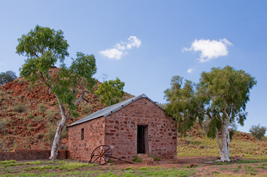 , built in 1872. I managed some shots of the the old Blacksmiths shop at the back of the Telegraph Station. On to Ti Tree, an interesting spot, home to a huge table grape growing farms and I remember a few years ago,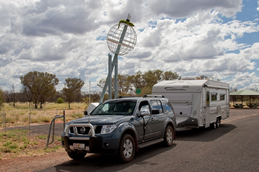 there was an inter clan brawl where a number of people were hospitalised after being stabbed with.......frozen Kangaroo tails.
We also stopped for lunch at the Tropic of Capricorn Marker. We could hear heaps of birds, it seemed like the were feeding of the new grass seed and I have figured that we now don't need to feed Malibu, she is catching and eating so many flies.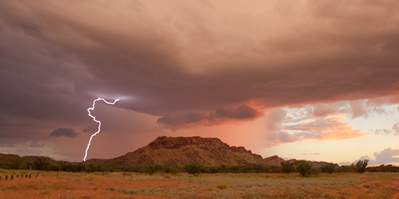 Got to Alice...thank goodness, what a relief. After we got set up we decided to go for a drive. The light looked interesting on the West MacDonnell Ranges so we headed out that way, getting a few shots along the way. Then a good looking cloud was hanging over a pat of the ranges and as I was setting up, some bolts emerged for that cloud. Got a few good shots before being hammered on the way back to Alice.
Day 4 - Wauchope - 182 km Total: 1291 km - 4 April 2010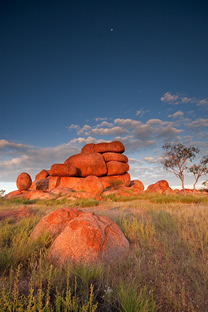 Today got off to another early start, sunrise at the Marbles. Mother Nature didn't disappoint but she also turned on the flies and big time. It is a challenge trying to compose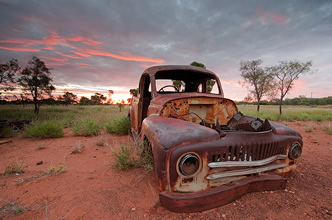 and focus a scene whilst doing the the Great Aussie salute. Josie and Malibu were smart and stayed it the car.
We then headed off to Davenport Ranges National Park and in particular Whistleduck waterhole. Davenport is one of the newer National Parks in the Territory. Fairly remote with a pretty rough road and about 50 k's in is the Kurundi Homestead which presides over 3800 square kilometre property. They run around 10,000 head off Brahman cattle on it. Anyway, we had just gone past there and cross a couple of creeks when we heard a bit of an odd noise, pulled up and 2 flammin flat tyres...yeah two! One was completely flat and the other was 3/4 down. Changed the flat one and luckily, I carry a compressor and I pumped the other up enough to get us back to the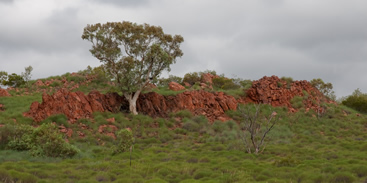 homestead. They had a fairly big workshop there along with a small shop. Brenda, the station owner, was there by herself as her husband and son were away for Easter. Brenda was very helpful and had some little kits for repairing tubeless tires. I had never done a repair like this but Brenda guided us though it and managed to repair both tires. We gingerly headed back to Wauchope and it was big relief to get back on bitumen.
Needless to say, we didn't get to Whistleduck and just hope that the temporary repairs will get us to Alice. We will be taking it easy and there is a big thank you to Brenda for her assistance.
Day 3 - Renner Springs - Wauchope - 300 km Total: 1109 km - 3 April 2010
Got up early for the sunrise but alas, nothing worth having. While we were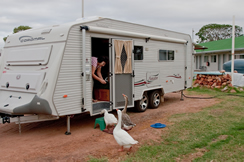 packing up, Josie had won some friends, 4 resident Geese. They were cranky, as Geese can be.
Temperatures are getting a lot better to handle, whilst they are still 33 - 35, the lack of humidity and a bit of a breeze makes it a lot more comfortable the Darwin's weather. The trees are now mostly shrubs and there is nothing that even remotely resembles a hill. Another thing encountered was the annual migration of Gray Nomads heading north to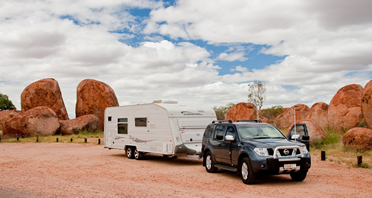 escape the winter. We have been passing bucket loads of them on the road.
Stopped at Mary Ann Dam, just north of Tennant Creek for lunch. A nice spot with a well set up picnic ground. Stopped briefly for some milk in Tennant Creek and kept going to the Devils Marbles and onto Wauchope. I had been hoping for some shots at the Marbles at sunset but the overcast conditions were not favorable so I grabbed a few and headed back to Wauchope.
Outside the hotel, there are 4 derelict cars that made great subjects and I got some nice shots as the sun set.
Oh yeah, the yanks talk about their BIG, 18 wheelers, well have a look at these 74 wheeled Road Trains. A very common sight here in the territory. Some of the big cattle properties will run up to 8 trailers however they are not permitted on the road .

Day 2 - Mataranka to Renner Springs - 408 km Total: 809 km - 2 April 2010
A lot of birds around our van along with a few Wallabies, got us underway this morning. First surprise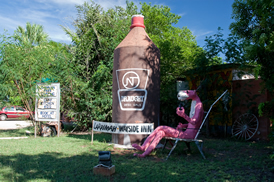 came at Larrimah where there is no longer any fuel available, one servo had shut and the other, burnt down. Still, the old pub was still going strong and has added a small zoo. Just to different, all of their buildings are pink. They do do things a little different in the outback.
I haven't driven this road for around ten years and when I did, it was virtually non stop, no time for sightseeing. This trip gives us the opportunity to stop at some of those bypassed spots and one of the first was Alexander Forest Cairn.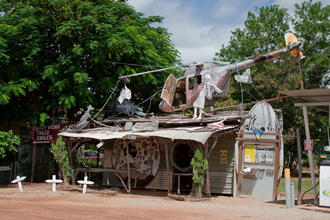 He happens to be an ancestor of Josie's and was there in 1879. We knew of some of the Forests exploits in WA but did not know about a Territory connection. We will check it out further.
Next stop, Daly Waters, talk about the outback being different (I reckon they have too much time on their hands), they have the most remote traffic lights in Oz, an old shed with a crashed helicopter on the roof and in the bar, a big collection of bras hanging around the walls. These were left by girls that had had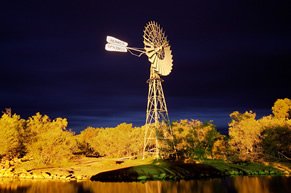 too much of a good time and date back to when the pub opened in 1930.
The trees are starting to get shorter and more sparse as we move from the tropical savannahs to the more arid country leading to the desert.
Our overnight stop is at Renner Springs, a roadhouse and van park in the middle of nowhere. An interesting spot with small spring that supplies a couple of waterhole's and they in turn attract a number of birds that you would expect to see here,
Day 1 - Darwin to Mataranka - 401 km Total: 401 km - 1 April 2010
Well we were finally underway again. Didn't make many changes from the last trip but we continually fine tune the we have things set up. That's an ongoing process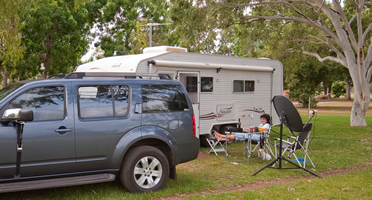 .
We hit the road around 11 am, which was a little later than we had planned but there was a few last minute things to finalise. The run was smooth with no hiccups.
Approaching Mataranka we started running into heavy cloud which would be from the edge of ex Tropical Cyclone Paul. It dumped a heap of rain in the area NE of Mataranka. No sunset to speak of.
We were just having drink and snack after setting up and Malibu has taken a liking to Pate....this dog has expensive tastes???